COLOR YOUR LIFE
-
DAELIM MUSEUM
I decided to write my first review about the exhibition "Color your life" which is now displayed in the Daelim Museum near Gyeongbokgung in Seoul.
As the name states clearly, it is an exhibition revolving around the concept of color, and colors assigned to shapes. There was a wide range of artistic compositions, ranging from simple pictures to real full-size sculptures or rather what we could call artistic staging.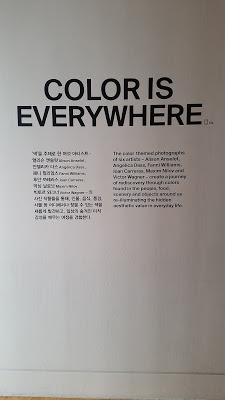 It is actually very beautiful. The first room on the second floor is themed around the Pantone color shades, and it is quite smartly displayed. Many artists associated Pantone colors to different kinds of objects, such as housing supplies, food, etc. One artist even went all the way by associating Pantone colors to humans by using skin tone. I personally thought it was brilliant !
The minimalistic aspect of the exposition makes it even more appealing and brings an agreeable atmosphere of peace and serenity. Going through all the colorful exposed objects is kind of walking in an entirely different world, it will definitely help you relax. On each floor of the exposition, there is a resting area, which has a view on the outside of the building.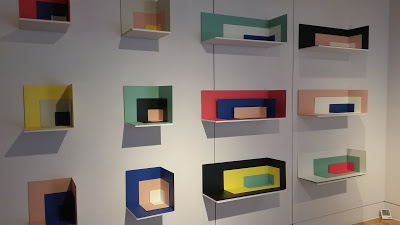 The price of the exhibition is very cheap, it is accessible to everyone and it will not take you too long to visit the museum. The price for adults is 5,000w (which is roughly around 4€ / 4$) and there are lower prices for teenagers and the cheapest prices are for children.
The location of the museum itself makes it very easy to find. As for the inside of the first floor, there is where you can purchase tickets. Next to that there is a tiny space with goodies and souvenirs from the exposition. You can find pens, pencils, notebooks, other gadget things like phone accessories, etc. They are generally cute and colorful. I got myself a set of 3 color double ended pens and a normal ball point pen.
Outside of the museum, there is a small coffee shop "D Lounge", where you can grab coffee, water, tea, then you head out and choose whether you would like to sit outside, enjoy the sunny weather or you would rather go inside (for which you would have to climb up the stairs on the right when you go out of the coffee shop). Either way, it is a pleasant spot to relax if the weather gets overwhelmingly hot !



Now, I wish the exposition had a bit more things to show. I really liked it so I wanted to see more of it.
I strongly advise people to go take a look, it is worth it :)